Area Information
Winter Sports Boone NC
Eating at the Dan'l Boone Inn is a family tradition many families, as is heading to the North Carolina Mountains to enjoy Skiing in North Carolina and take advantage of all the snow you'll find in the High Country during the winter months. Come eat a wonderful lunch or dinner at the Dan'l Boone Inn and then take a visit to one of the winter sports areas in the beautiful Blue Ridge Mountains of North Carolina.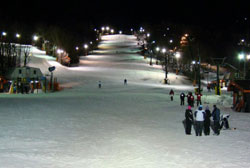 Appalachian Ski Mountain - This ski area located between Boone and Blowing Rock is a family friendly mountain offering 12 skiing and snowboarding trails, ice skating, and an expansive lodge with a large observation deck! You can enjoy watching while sitting fireside or take a ski or snowboard lesson with an instructor from the French-Swiss Ski College.
Sugar Mountain Resort - This ski area is located in Banner Elk North Carolina and offers lots of fun for the whole family! With 17 slopes and trails for your skiing or snowboarding pleasure, there is lots of terrain to explore! Sugar also offers a large base lodge, ice skating, and Snowtubing NC.
Beech Mountain Resort - Also located in Banner Elk North Carolina, Beech Mountain Resort offers 15 slopes and trails! Beech Mountain Resort has something for everyone as you'll find an ice skating rink in the middle of the Beech Tree Village, Snowtubing NC, and a large base lodge where you can watch the slopes!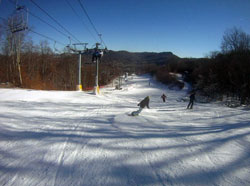 Hawksnest Tubing - Hawksnest is the only winter sports area offering snowtubing exclusively! Billed as one of the largest snowtubing areas on the East Coast, Hawksnest is great for those who aren't interested in skiing and snowboarding! Snowtubing NC is a great activity for the entire family!
All of these wonderful winter sports locations are just a short drive from our Restaurant in Boone NC. You'll truly enjoy your lunch or dinner at Dan'l Boone Inn and you'll love your visit to the High Country when you check out one of these Skiing NC resorts! Also be sure to take advantage of the many other Attractions in Boone NC you will find just minutes from Dan'l Boone Inn!
More Information
If you need information about any of our services, please feel free to use our contact form, send us an e-mail to info@danlbooneinn.com, or give us a call at (828) 264-8657.
Cash and Checks Accepted. Sorry, No Credit or Debit Cards.
Dan'l Boone Inn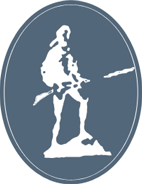 CLICK HERE FOR HOME
More Area Information
Come & See Us Soon!
Address:
130 Hardin Street
Boone, NC 28607
Phone:
(828) 264-8657